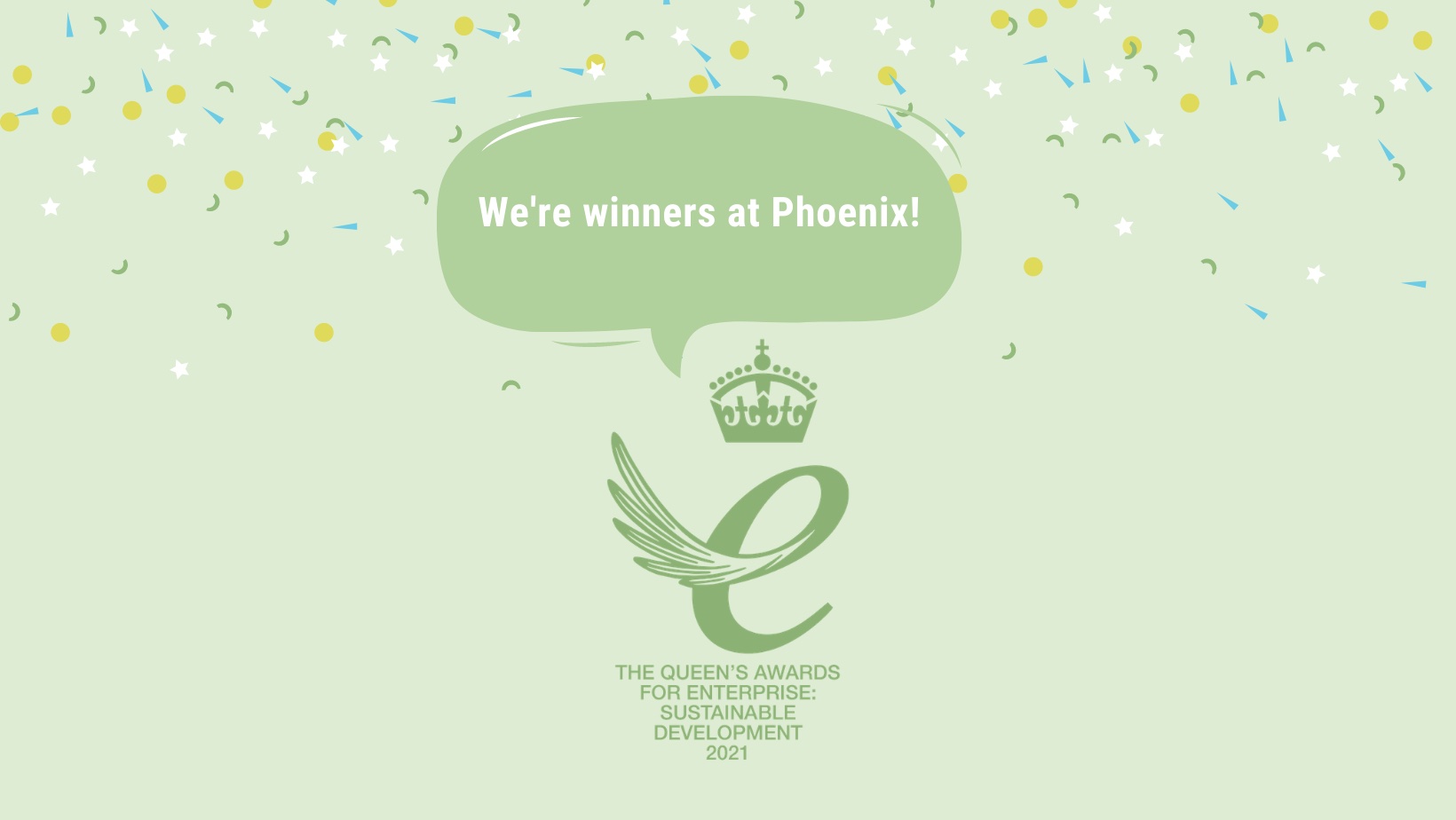 Queen's Award for Enterprise: Winner 2021
You may have noticed that we've been keeping hush about something for a little while at Phoenix. Today we can spread the news! We're delighted to announce that Her Majesty the Queen has given us an award –  the very prestigious Queen's Award for Enterprise in Sustainable Development!
Queen's Award Winner!
Every year, Her majesty The Queen selects about 200 businesses and recognises their work and achievement with a Queen's Award for Enterprise. The Awards fall into four categories: Sustainable Development, Innovation, International Trade and Promoting Opportunity. We are one of only 17 businesses in the UK who have been recognised for our commitment to Sustainable Development. Needless to say we are extremely proud. All of our therapists, counsellors, volunteers and staff have worked incredibly hard over the last 8 years and particularly over the course of the pandemic.  It is a huge honour to have been recognised in this way.
Thank you to all of our clients, old and new, who have kept us going (and kept us smiling – under our masks of course) during  the last year – we really couldn't have done it without you.
Official Listing
Have a read of our official listing in the Queen's Awards Brochure:
"Phoenix Health and Wellbeing, a charity and social enterprise based in Leeds employs 3 people and 30 sessional therapists. It provides massage, acupuncture and counselling support to people who have chronic health issues and low incomes. The business model generates a surplus to fund this free or subsidised charitable support by providing full-fee massage and counselling treatments to the public and employee assistance to local businesses.  The business model demonstrates passion and commitment to sustainable development and is commended for the level of impact given the small size. The company response to Covid-19 has been exemplary, providing on-line sessions and podcasts, reaching out to the isolated or lonely. It is awarded the Queen's Award for Enterprise in Sustainable Development because it has demonstrated excellent positive impacts across a number of initiatives such as a self-sustaining finance model, and the delivery of services in response to community need and in close partnership with a range of stakeholders and volunteers."
What next?
We are hoping this Queen's Award will help us to spread the word about our social enterprise and charitable work. We have already featured on Business Desk and have piece on today's Yorkshire Post website.  Take a look here
Even more exciting – at some point we will be visited and actually presented with our Award! We'll keep you posted about that!
If you would like to know more about the Queen's Awards just follow this link
---
Phoenix Health & Wellbeing is a Charity and social enterprise.  By coming to us for a treatment, or using our Employee Assistance service you can relax in the knowledge that you are helping others less fortunate than yourself. We use the proceeds of these sessions to subsidise those who have chronic health issues but would not otherwise be able to access our therapies due to cost. Roughly £4 to every £10 spent with us will go to help others.
For information on our charitable work follow this link or call us on 0113 234 0181
Opening times:
Monday to Thursday from 10:00 to 20:00
Friday and Saturday from 10:00 to 16:00
Sunday closed.