Pay it forward this Christmas with a gift voucher 
Our gift vouchers allow you to give a gift of relaxation and indulgence to someone special this Christmas.  You can purchase a voucher for a relaxing massage, an aromatherapy treatment, reflexology or any treatment listed on our website.  What's even better, you don't need to go anywhere to buy a voucher – you just do it online via this link .  
More good news about our Gift Vouchers 
You may know that we are a social enterprise and Charity. All of the proceeds of sales of Gift Vouchers are directed towards our charitable fund and used to provide support for people with chronic health issues and low incomes.  
Here's how it works 
You purchase a gift voucher for one of our wonderful treatments shown on our website 

A medical or healthcare professional refers a person who has chronic health issues and low income to Phoenix Health and Wellbeing.   

The professional suggests which treatment they think would be of most benefit for their patient from: counselling, massage, reflexology, reiki or acupuncture.

Here are some examples of the types of health issues that we get referrals for; cancer, Parkinson's disease, multiple sclerosis, depression, anxiety and chronic pain –there are too many to mention here! 

The patient who has been referred is invited to pop along for some sessions of support. They may be asked to contribute a small amount for their treatment. The amount depends upon their level of income and circumstances. 

The person who receives the gift voucher can call to book their appointment and come along for a special, indulgent and perfectly relaxing treatment.
Here's who it helps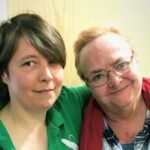 We support roughly 400 referred clients each year.  They have a range of complex health needs and many have issues with low self-esteem and confidence.  Ann is a client of ours who has benefitted enormously from the Reiki sessions that she has received.  Here is her storey in her own words.  
'I was referred to Phoenix Health and Wellbeing for massage therapy by my GP. I have a genetic skin disorder. It's called Darier's disease. It is where huge painful blisters form on your skin which can take up to six months to heal.  
I've had Darier's since I was 19, I'm now 64. My physical health issues really get me down. I am permanently on morphine. All my nails and my teeth have been removed because the medication erodes them. At one time, I was spending up to 8 months out of the year in hospital.  
Occasionally I get so low I get suicidal. Over the last 5 years I have had 4 suicide attempts. A lot of people with long term skin conditions struggle with their mental health. My GP thought massage therapy might help me to manage my suicidal tendencies. 
Since I've been coming here(Phoenix Health and Wellbeing)  I've had one minor break down and no suicidal thoughts. For me, to go 5 months without any suicidal thoughts is amazing! I come for Reiki and it completely relaxes me. It makes me just forget everything. I even feel relaxed when I get home from my treatment and the following day.  
The therapies and the staff are really good. I've been to other places and it's not the same. At Phoenix, the staff understand what you're going through. Before we start the session they always have a chat to me about what I want from the treatment. They listen to me.' 
Our Guarantee to you 
The vouchers are valid for six month's and are COVID secure so that, in the event of another lockdown or more disruption, the time out doesn't count towards the expiry of the voucher.  
All of our therapists are qualified to Diploma level or above and are members of a relevant professional body such as FHT or CthA.  They all undertake continuing professional development and are all insured and Police checked.  
---
Phoenix Health & Wellbeing is a Charity.  By purchasing a gift voucher from us you are helping us to continue our charitable work with people who have chronic health issues and low incomes. We use the proceeds of your gift voucher to subsidise those who would not otherwise be able to access our therapies. Roughly £4 to every £10 spent with us will go to help others.
Opening times:
Monday to Thursday from 10:00 to 20:00
Friday and Saturday from 10:00 to 16:00
Sunday closed.
Buy your voucher via our website or call 0113 234 0818 to speak to one of the team