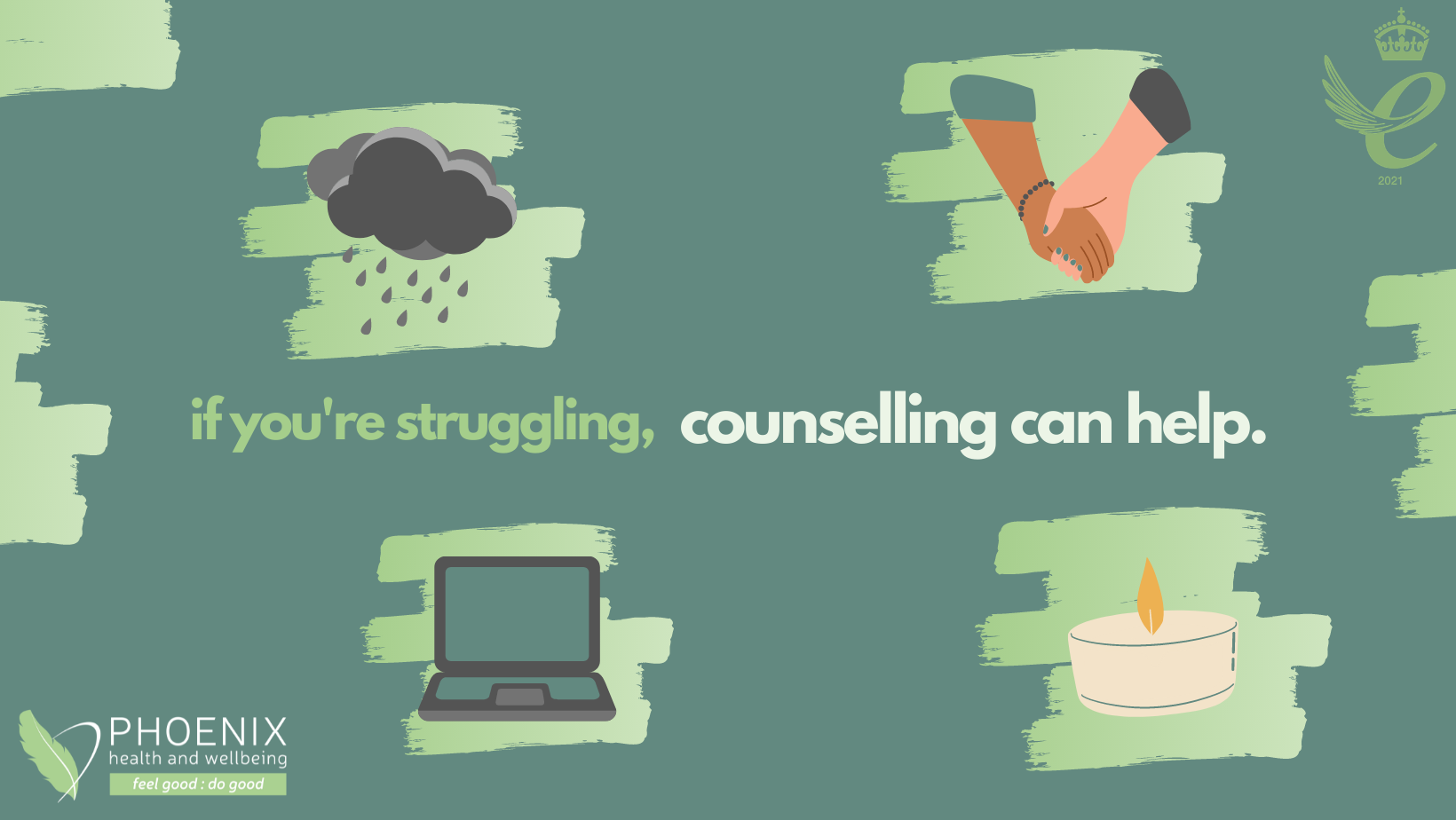 Counselling can help – here's how!
Counselling can help – Here at Phoenix Health and Wellbeing we know that counselling can help. We see so many people come through our doors and leave far happier and more in control of their lives, relationships, issues and so much else.
The British Association of Counsellors and Psychotherapists (BACP) carried out some research and found that 33% of people they asked had tried counselling in the past, and 76% of those people would recommend it to friends or family.
That's why we thought we'd share with you some thoughts with you about the type of concerns that people bring to counselling and how it can help.
Depression and Low Mood:
According to Mental Health First Aid (MHFA) England, 24% of women and 13% of men in England are diagnosed with depression in their lifetime.
Depression can manifest in different ways, with different symptoms and severity levels from person to person. It can come about because of various reasons, and will feel different to every person who experiences it.
Counselling has been proven to be useful when coping with depression or low mood. BACP also found that person-centred counselling, the kind we offer here at Phoenix, was as effective at combatting depression as methods like CBT: 
Hear it from a client
"I didn't see a lot of people, so coming here is my lifeline really. I've had treatments and counselling and I just think It's great, it's certainly helped me anyway!
I feel better when I leave than I do when I come in, the people are supportive and friendly and kind, it goes a long way. You don't have to put up a front at all, you're accepted as you are."
Anita
Bereavement:
Grief and loss can affect people in physical as well as emotional ways. It can potentially have an effect on appetite, sleep patterns and even breathing problems. People always associated bereavement with the loss of a loved one but it can also result from the loss of a pet, job or way of life.
Counselling for bereavement can be especially helpful to those coming to terms with any loss. It can guide them through the grieving process in a way that works for them. Just being able to talk to someone about what you're going through can be an incredible relief to people who feel like they are going through grief alone.
Hear it from a client
I recently received counselling and would like to express my gratitude to Phoenix for the professional and caring way they addressed my distress, and the overwhelming sadness I was experiencing because of my situation.   I am now able to manage much better and although it will never be ideal because of my husband's dementia I have the tools to cope.  When I first met me counsellor she said she was not able to perform miracles – I beg to differ.    Thank you for getting me out of the deep hole I had got myself into." 
Rachel
Work Stress:
The Office for National Statistics (ONS) have established that 13.1 million days at work are lost every year due to stress. This was prior to all the massive changes and additional stress that resulted from the COVID 19 pandemic.
Stress at work doesn't just have to mean stresses taken from the workplace back into the person's home life, it can also be the other way round, issues from someone's personal life making them more stressed and on-edge at work. Counselling, and stress counselling, can be used to help deal with stress when it arises in the workplace, finding healthier ways to cope with stressful situations and even find the cause of some stress.
Studies in Germany have found that after going through counselling for stress and being equipped with the tools to cope, participants noted improvements in their mental health and sleep patterns up to seven years later!
Hear it from a client
"The support I had enabled me to think about my own wellbeing and how important is self-care for work life balance. I found the service professional and confidential. All the staff were very welcoming and non-judgemental. I would definitely recommend Phoenix Health & Wellbeing to anyone who is thinking of accessing support or the services they offer."
Lai
Relationship Problems:
You may have seen couples counselling in various movies and TV shows. It can be very helpful when couples are having trouble communicating their worries and problems to one another. This difficulty in communicating can lead to anxiety and low mood. Nearly 60% of the participants in a study in Newcastle reported that their relationship was better one year after counselling.  Not only can couples counselling help with relationship, it can also be a very effective help for people in experiencing depression. In an article in Mental Health Today it states that over half (56%) of people undergoing Couple Therapy noting an improvement in their anxiety or depression.
Whatever your issue…….
We're proud to be able to support our clients regardless of whatever may be weighing them down.  Our counselling service genuinely helps people to find the tools they need to work through their problems and issues. If you're experiencing any of the above, or anything else that you'd like to talk to someone about, get in touch with us and find a counsellor that will work with you to support you.
If you would like to know more about counselling at Phoenix Health and Wellbeing click here. 
To find out more about our counsellors click here
If you want to visit our professional body – the British Association of Counsellors and Psychotherapists click here
---
Phoenix Health & Wellbeing is a Charity.  By coming to us for a treatment or counselling session you can relax in the knowledge that you are helping others. We use the proceeds of your treatment to subsidise those who would not otherwise be able to access our therapies due to cost. Roughly £4 to every £10 spent with us will go to help others.
For information on our charitable work follow this link / call us on 0113 234 0181
Opening times:
Monday to Thursday from 10:00 to 20:00
Friday and Saturday from 10:00 to 16:00
Sunday closed.