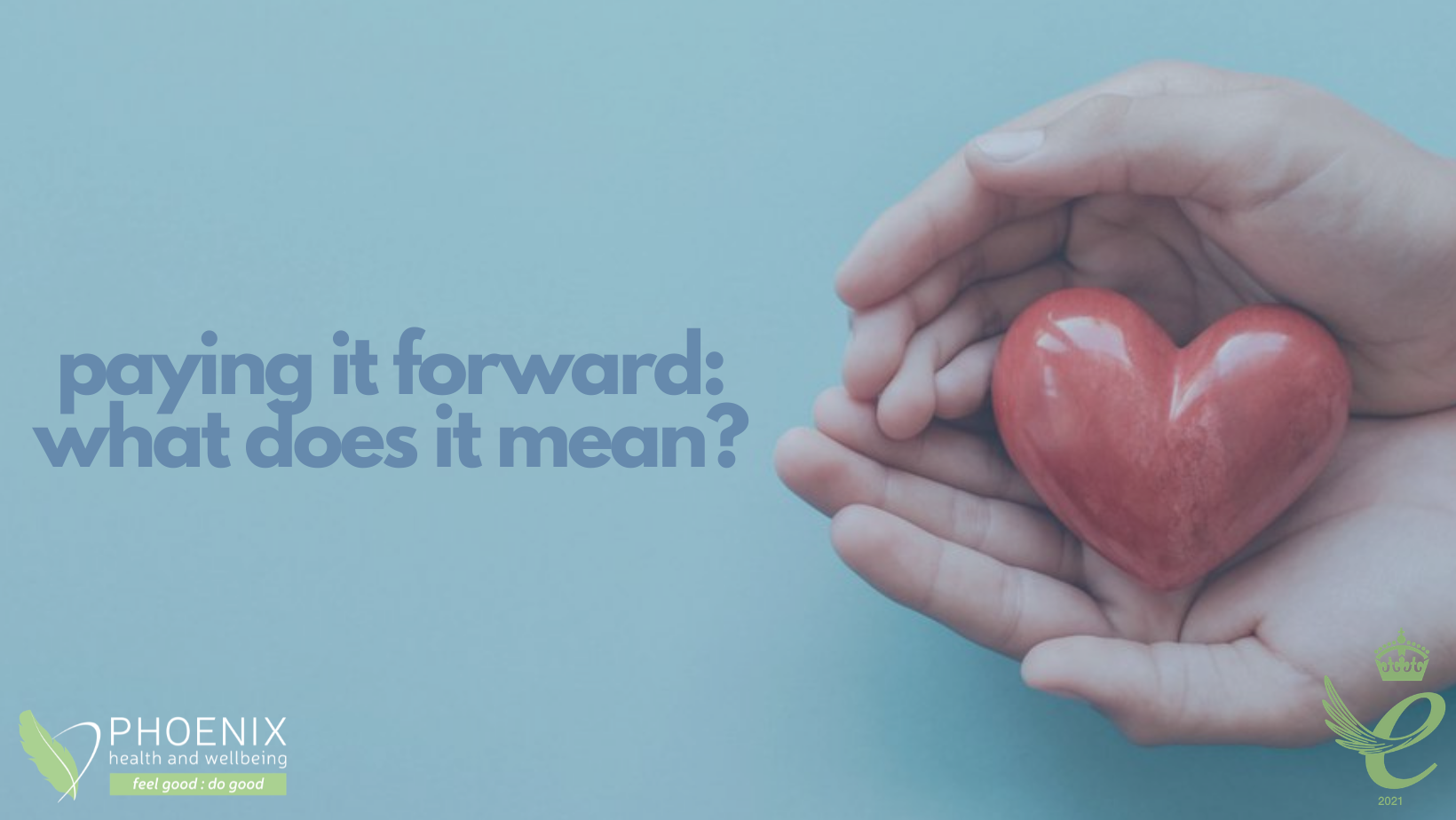 Paying it forward can encompass all kinds of kindness. It could be literally paying it forward – there was a trend of patrons at a coffee shop drive-thru paying for the order of the people behind them. Or it could be helping people by giving them your time and assisting them with tasks. Or even just sharing words of kindness with friends, family or strangers. The aim of paying it forward is to attempt to take at least one moment out of your day to benefit someone else.  Now research suggests that doing so is also beneficial to our own health.  
A physical change 
There is documented evidence to show that acts of kindness make us happier. This research  article explains that acts of kindness, specifically charitable donations, activated the reward centre of the brain. This in turn generates a rush of dopamine, serotonin and oxytocin – our feel-good hormones. This aptly-named 'Helper's High' is a noted physical reaction that makes us feel good, and is easily activated by dropping a pound in a donation box, or donating to your favourite causes.  
 It's good to be good 
Paying it forward and being kind to others can also make us feel better about ourselves. A study in the International Journal of Medicine found that altruistic acts, whether monetary or not, boosted self-esteem and self-image. They literally lead to a higher level of happiness.  Read more about this study here
Some studies have also found that regular acts of compassion can lower our stress levels, by dramatically reducing the amount of the stress hormone cortisol found in our bodies. This makes sense, as in the moments when you choose to do something for someone else, you can get out of your own head and think completely about someone else – a truly anxiety free moment.  
Real People: Real Stories
One of our counsellors, Chris was talking today about how she regularly donates a few tins of food to the food bank box in her local supermarket.  Chris used to work with the Sure Start programme that offered support to vulnerable, hard to reach families.  She saw daily examples of families who could not afford to put the electricity on or buy food. This memory motivates her to pop a few extra cans through in her trolley.  Thinking of the physical effect of this – and it took a while for Chris to articulate this – but what she said is "Well it's a good thing to do isn't it? It makes your heart swell a little!"  It's not the effect that the researchers identified but I'm sure that we all know the feeling that Chris is referring to. 
What can I do?  
Acts of kindness can come in all shapes and sizes, and don't necessarily have to be grand dramatic gestures that require lots of time and money spent. At Phoenix, we were delighted when we received a lovely 'Random Act of Crochet Kindness' from one of our lovely clients, a little package of crocheted hearts! There is even a Facebook page dedicated to their acts of crochet kindness. Why not take a look? 
It doesn't have to be BIG
If you have old clothes lying about, donating them to a charity shop is a great way to pay it forward, or buying an extra tin on your weekly shop to donate to a food bank. It can also be as simple as paying a stranger a compliment, something that takes no effort but will make that person's day!  
Let us know on social media what your favourite ways to pay it forward are, or tell us about a time a stranger made your day! We'd love to hear from you.
---
Phoenix Health & Wellbeing is a Charity.  By coming to us for a treatment you can relax in the knowledge that you are helping others less fortunate than yourself. We use the proceeds of your treatment to subsidise those who would not otherwise be able to access our therapies. Roughly £4 to every £10 spent with us will go to help others.
If you would like more information about Phoenix Health and Wellbeing click here  If you would like to know more about our therapies click here.  
Opening times:
Monday to Thursday from 10:00 to 20:00
Friday and Saturday from 11:00 to 16:00
Sunday closed.