We're all being faced with change that's completely out of our control. It's a strange feeling isn't it!
Our therapists are amongst those who can't work from home at the moment. We thought we'd share how they have been finding the change, and what they're looking forward to once this is all over.
Who are you and what's your role at Phoenix?
What were you doing pre-lockdown?
"I was working Monday to Saturday at Phoenix, massaging clients."
**Editors note: for those who don't know Viv, she is the most caring wonderful person. She makes such a huge difference to peoples lives and she would never shout about the great work she does 💚**
How are you doing at the moment?
"The lockdown has affected me in ways that have been surprising – at first a sense of loss and mourning. Not being able to be close to family & friends, not doing the job you love & not being able to go out freely, but then you think "it's not going to be forever" so I'm taking this time to pause, reflect, look at things more & doing the things I did not have time for before. 
I find that having a routine & keeping busy with jobs whether indoor or outdoor helps. Because the weather has been so great I'm gardening! The seeds I have grown since early March are ready to plant out so looking forward to see them bloom. Also been catching up on my reading, re-visiting old favourite movies, watching boxsets & not forgetting Netflix… 
To stop each day morphing into the next I keep the weekends free for local walks & make those days special, like movie night & home made popcorn for example!  
There's been some amazing things in the past week like last Sunday evening the satellites lining the sky! I counted about 50 – all social distancing kid you not!  Also saw Mr Fox crossing the road nonchalantly taking advantage of the lack of traffic, fab! These moments make me smile "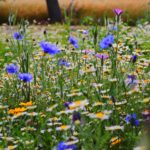 What are you looking forward to?
"The clapping for the NHS, carers & key workers is something to look forward to every Thursday. The banging of pots & pans, ringing of bells & our neighbour with his bagpipes is a joyous sight! What a rowdy lot! Then we go in & raise a glass to those amazing people! It's a thing in house now.  
Apart from seeing everyone I know & love when this period of isolation ends I'm looking forward to a more caring & selfless world. In the meantime I'm looking forward to my diy hair cut next week… Yay!"
We can't wait to be able to offer you massage again – we miss you and our magical therapists. We'd love to hear what you're doing via our Facebook page.
All the best,
Gill, Lizzie, Olivia & the rest of our team xxx
If you can, please support us by making a donation or buying a gift voucher for massage or acupuncture
Any amount you can spare allows us to continue supporting local people with chronic mental & physical health issues.