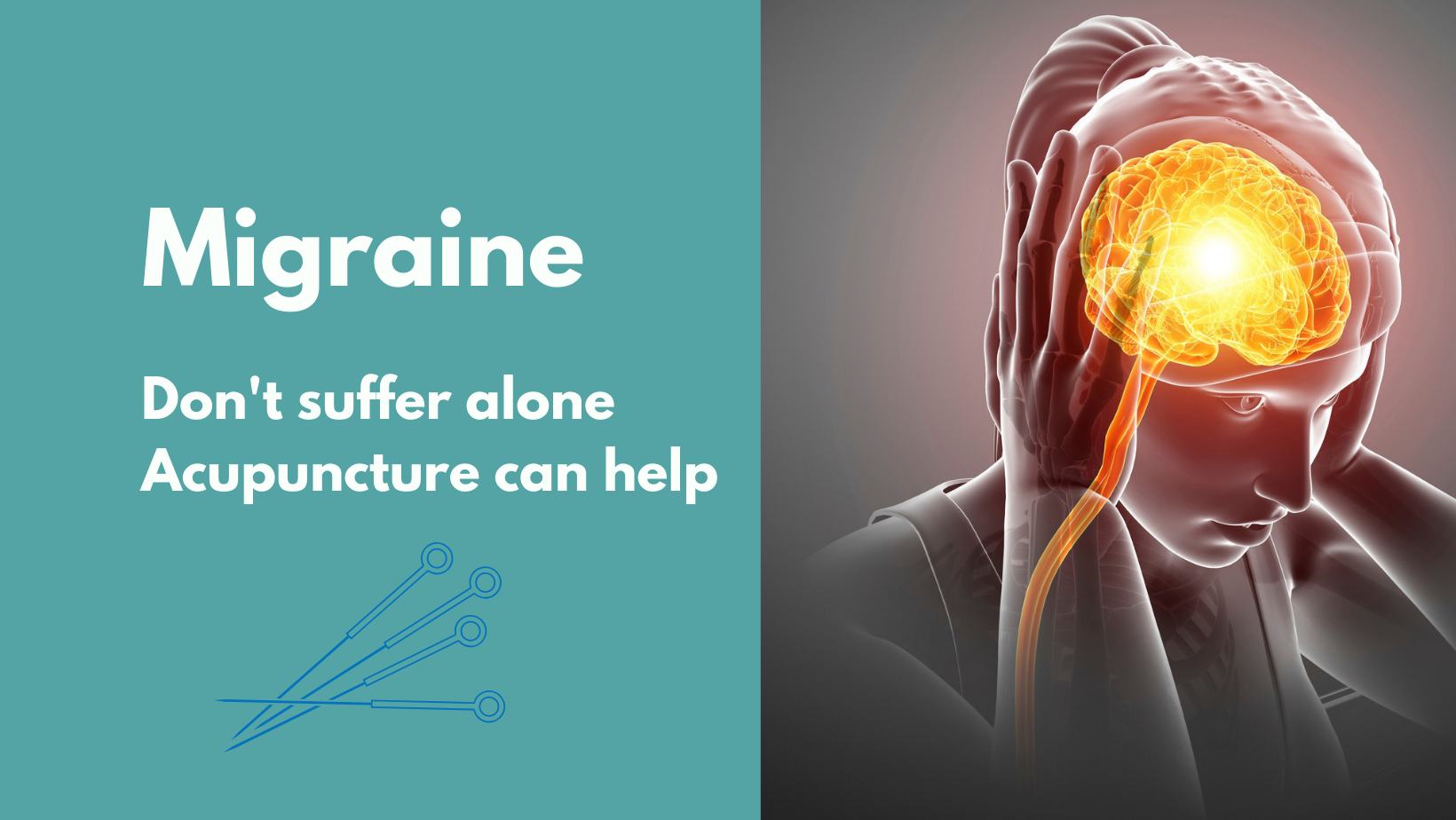 Acupuncture as a treatment for migraine
Anyone who suffers from migraine will tell you how painful and debilitating this condition can be.  Read on to find out more about this condition and how acupuncture can help to treat and prevent migraine.
What is migraine?
The symptoms can vary from person to person but most people experience a severe headache on one side of the head.  This pain can be so severe that it prevents the sufferer being able to continue with everyday activities.  The pain is often accompanied by feeling sick or actually being sick and there is often acute sensitivity to light.
One sufferer described how her migraine starts with visual disturbance with bright lights appearing and radiating from the focus of her vision.  This progresses to pins and needles in her fingers and numbness in her tongue.  Then comes the headache. "It feels as though my brain has shrunk and any movement is extremely painful. It feels as though my brain is banging against my skull. I have to keep completely still" Ali – Migraine Sufferer
What causes migraine?
The cause isn't really known conclusively.  Some believe migraine is due to electrical activity in the brain while others report it being linked to diet and food sensitivities or hormone imbalance. The NHS website states that migraine is "thought to be the result of abnormal brain activity temporarily affecting nerve signals, chemicals and blood vessels in the brain."  
Acupuncture and migraine
There have been many studies of the benefits of using acupuncture to treat migraines.  The use of acupuncture is so widely accepted that it is listed as a suitable treatment on the NHS website 
Acupuncture is as good as any drug therapies currently recommended, with few contraindications or side effects.  The British Acupuncture Council website states "There have now been many controlled trials of acupuncture for migraine, with some large, high-quality ones in recent years. The results of the latest reviews are quite consistent: acupuncture is significantly better than no treatment/basic care for managing migraine, and appears to be at least as effective as prophylactic drug therapy, with few contraindications or unpleasant side effects (Linde 2009, Wang 2008, Sun 2008, Scott 2008) 
Acupuncture at Phoenix Health and Wellbeing
We've had many patients at Phoenix who suffer from chronic migraines.  When a patient who suffers from migraines comes for an acupuncture consultation, the clinician will look at the frequency, intensity and duration of the migraine, and also look at where the cause may be. 
Our acupuncturist Chris says "In most cases I do not stick any needles in the head, the treatments tend to be on the feet!  In nearly all cases, the muscles around the neck and shoulder are tense and tight, so I need to treat these too or the migraine will be back in no time!   I've also come across some cases where releasing muscles in the jaw brought quick relief and reduced the number of migraines." Chris Wadsworth, Acupuncturist
Client Feedback
"I'm a life long hemiplegic migraine sufferer. These started when I was about 5 years old and I'm now 28. I have tried everything to keep them under control as much as I possibly can, but nothing has truly worked until I came to see Chris for acupuncture. 
I went from having 2/3 attacks per week, to pushing my attacks to almost one every 3 months. All thanks to Chris's amazing work. He knows exactly where I'm having neck and back issues which is the root cause of my migraines. Every session he doesn't need to ask about where I'm feeling tense, he can feel everything perfectly. I genuinely cannot thank him enough for what he's done to my life. He knows his job inside and out. He's truly saved me from an incredibly dark place.
If you've never tried acupuncture before and also suffer migraines, I would highly recommend giving it a go. Chris has been a life saver."
Our acupuncturist – Chris Wadsworth
Chris trained in Chinese Medicinal Acupuncture (TCM) at the Northern College of Acupuncture in York.  He qualified in 2016 and has worked in various locations including working for Macmillan Cancer Care. Before COVID 19 came along Chris was running part of our weekly multibed clinic, offering low-cost acupuncture to people with chronic health issues.
Our new low cost acupuncture clinic
At the moment Chris runs a one-to-one acupuncture clinic for us every Friday from 10am to 4pm.  We offer a sliding scale of charges to make this treatment more affordable for people who have chronic health issues and low incomes. If you are currently working you will be asked to contribute £55 per session.  The proceeds will then go towards funding subsidies for people who can not afford complementary healthcare.
For more information just click here 
Health insurance and acupuncture
If you have private health insurance, you may be able to claim for some or all of the cost of your acupuncture. Check your policy.
---
Phoenix Health & Wellbeing is a Charity.  By coming to us for a treatment you are helping us to continue with our charitable work supporting people who ave chronic health issue and low incomes. We use the proceeds of your treatment to subsidise those who would not otherwise be able to access our therapies. Roughly £4 to every £10 spent with us will go to help others.
Opening times:
Monday to Thursday from 10:00 to 20:00
Friday and Saturday from 10:00 to 16:00
Sunday closed.
Book your treatment via our website or call 0113 234 0818 to speak to one of the team