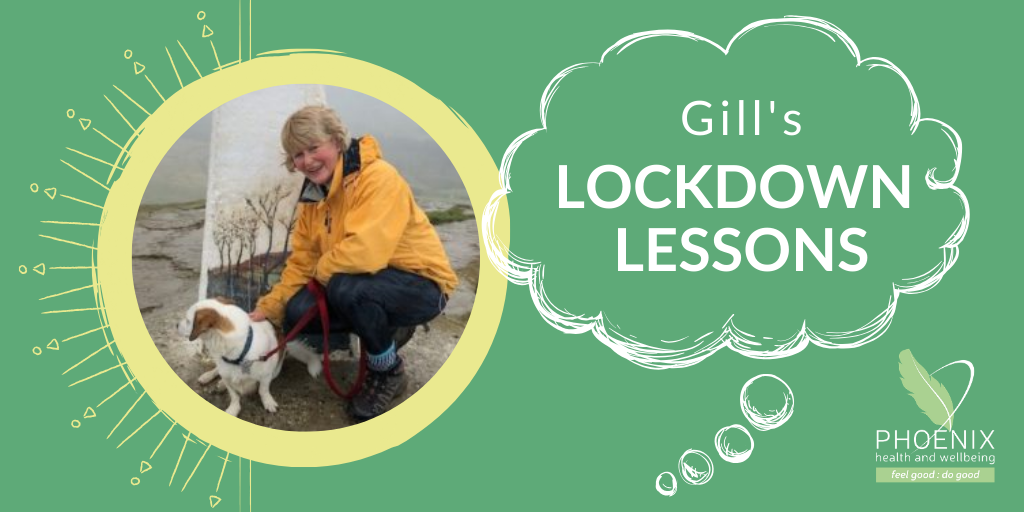 'Unprecedented circumstances' is a phrase that has been severely overused in the last 3 months but what else can you say? In my career (spanning several decades!) I have never had to close an organisation under Government instruction and go into lockdown – or feared for clients' safety as a result of public health concerns. 

We faced this strange set of circumstances in March this year. Phoenix was providing support for roughly 100 people each week who had been referred to us by medical or healthcare practitioners. All of these 100 had chronic mental, emotional or physical health issues. 

As the pandemic developed it became clear that many of our referred clients would need to isolate for a lengthy period for self-protection.  They would not be able to access our support which some literally described as life-saving. 

As we closed our doors on March 23rd we began a process of developing an action plan to deliver positive improvements and support for as long as we were able. 

Positivity is the key lesson that I will take from Lockdown.
Here's what we've been working on behind the scenes & the lessons we've learnt:
First lesson – it really is good to talk. It helps us to understand how we can help.
We

 started a programme of calling all of our 100 referred clients to establish their circumstances and needs.

We were able to signpost clients to the volunteer service which Leeds City Council orchestrated. The service provided very practical support – getting peoples' prescriptions and making sure people had food. 

 

We also established which clients were most at risk either as a result of domestic circumstances or worsening mental health. 

 
Second lesson – even if it seems daunting at first, anything is possible if we put energy and positivity into it.
We reviewed our services and decided to put our previously face-to-face counselling service on to a remote platform.

This was no mean feat. It involved re- writing contracts, reviewing safeguarding policies, working with our volunteers and counsellors to check training and suitability, liaising with professional bodies and helping staff to use platforms such as Zoom.

 

We managed to get 50 of our 85 referred counselling clients to continue their sessions by telephone or video call.

 

We now have a growing number of employers using our counselling service to provide support to their staff during lockdown

 
Third lesson – recognise the impact our services have on peoples lives – and do what we can to make sure they are accessible, no matter what the world throws at us.
This switch to remote counselling has gone far better than we could have imagined. It really has enabled some very vulnerable people to continue with their weekly support. In some

cases

 this is the only contact the person has each week as they are isolating at home alone. 

 

Our calls to vulnerable clients have continued. We have some who did not want remote counselling or perhaps came for massage therapy before lockdown. We have been able to call those who wanted regular contact and we are working hard to keep all of them involved and updated about any news and developments as they happen.

 

As well as 

supporting 

referred clients we have made developments to our 

full-fee

paying service. This is how we fund our charitable work, so is fundamental to our existence! We have introduced and online counselling service as part of our Employee Assistance package.  Employers can now use our service to support employees who are struggling with stress or mental health issues. 

 
A huge step forward for our service…
As you have seen through the lessons above, Lockdown has made us think more broadly about our service. We now have an excellent remote counselling service. People who have physical or mental health issues which would have prevented them from coming to our centre in Leeds can now be supported remotely. This is an incredible step forwards for our service and we're really proud of this.
Even our behind-the-scenes systems have had some love!
As well as developing the counselling service we have been able to look at our business systems as a whole. We have reviewed and rewritten large parts of our website and integrated our booking system. It is now possible for a non-referred client to visit our website, select a counsellor, book an appointment with that therapist and pay online. This may sound basic to some but for us this was a huge development. 
Looking to the future…
Finally, we have been working on our marketing plan with Claire from Think Smart Marketing. It has been brilliant to have the time to really focus on developing a plan that will see us through the next 12 months when we really do need to bounce back from Lockdown not just restart! 
Fourth lesson – appreciate our altruistic, knowledgable, enthusiastic team
I'm really proud of how the Phoenix Team have responded to Lockdown. Many therapists who can't work (massage therapists and acupuncturists for example) have been using their time constructively and will I'm sure return with renewed passion and vigour.   
All of the Phoenix Team have been a positive force and it is truly a pleasure to work with them in this amazing organisation. I am really looking forward to the 'new normal' and helping as many people effected by chronic ill-health as we are able.  
Best Wishes,
Gill
P.S. please have a look at our COVID-19 Wellbeing & Safety Plan here.