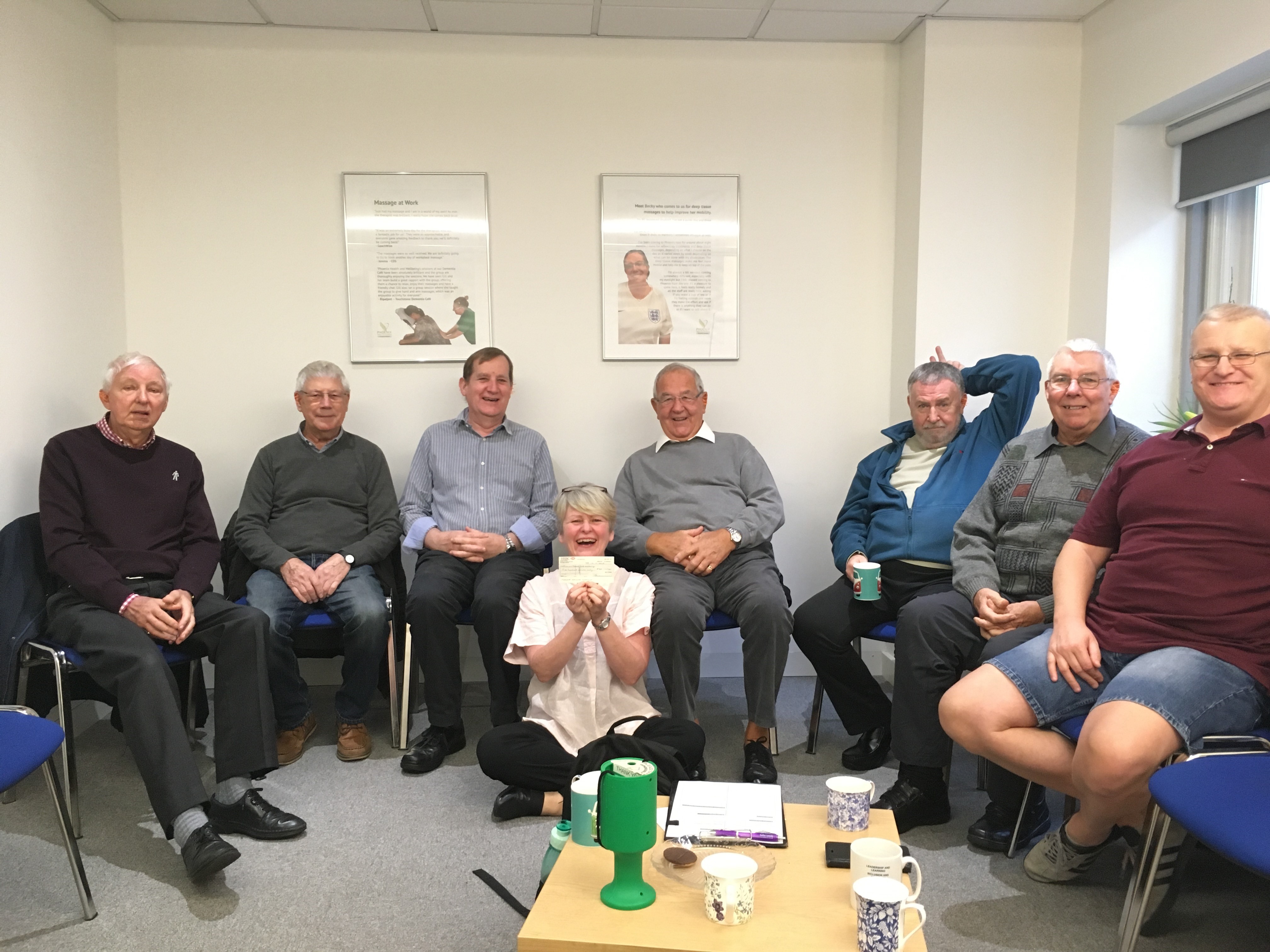 Exciting news! Awards for All said Yes
Awards for All Funding
We are bursting with excitement about this news!  Awards for All (part of the National Lottery) have given us £10,000 to fund the expansion of our clinic supporting men who have prostate cancer.
What is this?
If you haven't heard about the clinic, we have been running it as a small trial since the summer of 2018.
Each week a group of men who have prostate cancer and are being treated with hormone replacement therapy come in to our Centre for ear acupuncture treatments.
Hormone replacement therapy is one of the ways in which prostate cancer is controlled. It can have various unpleasant side effects such as hot flushes, fatigue, disturbed sleep and weight gain.  Ear acupuncture has been clinically proven to effectively manage these side effects, particularly the hot flushes.  
Our ear acupuncture clinic runs for an hour every Wednesday morning and has seven regular attendees.
The Acupuncturist who manages the clinic, Giles Watts, also runs our low-cost acupuncture clinic. As well as receiving ear acupuncture treatment, Giles incorporates a relaxation session in to the group and of course the attendees enjoy tea, coffee, biscuits and a chat.
The support from Awards for All means that we will be able to expand this clinic to run a further 3 clinics each week offering this support to more men who have low incomes and are living with prostate cancer controlled with hormone therapy.
Real People: Real Stories
Meet Chris. Chris comes along each week to our ear acupuncture clinic. Here is his story in his own words.
"I've been having acupuncture for 5 years now. I started a couple of years into my hormone injections for prostate cancer which give you hot flushes.
I'm quite open minded so I thought 'yeah I'll give it a go, why not?' At that point I was really suffering with the hot flushes. I thought I would try and be scientific about it and I counted how many flushes I was having per day before I started the acupuncture.
I was averaging at about 20 a day, then more at night. I was awake at least several times a night with flushes so it was more like 30 a day really. After the first session of acupuncture I didn't have single flush for two days. They came back gradually during the course the week and then I had another acupuncture session with similar results. I have been receiving acupuncture treatment ever since and although I still get hot flushes, I don't get anywhere near as many as I used too and there severity is reduced.
I know that the flushes haven't just deteriorated naturally because if I miss an acupuncture session I can really tell the difference. It doesn't work for everybody. Some people when they have acupuncture for flushes, come for five or six weeks and that fixes it. Others, it doesn't seem to work at all for. Then there is a middle group, which I'm in, where the flushes are reduced in intensity and frequency so long as I have the acupuncture.
I like coming to Phoenix because there is a camaraderie between all the people that come. I've known some of them now for four or five years. It's good to build up new friendships with people from all cross-sections of life and we all have this common bond that we have prostate cancer. It helps to be able to discuss your symptoms or changes in treatment with others in the group because the chances are that somebody else in the group has already experienced that kind of change during their course of treatment."
A summary
Some men who have prostate cancer are treated with female hormones which can cause unpleasant side effects
Ear acupuncture (sometimes called auricular acupuncture) can help to control these side effects. It is clinically proven to work.
The NHS offer some sessions, but many men are not supported and so have to pay for a private acupuncture session to have this treatment. If they can't afford it, they can't access it.
Awards for All have recognised the value of our weekly clinic and decided to give it maximum grant funding of £10,000
We will be able to expand this service and direct the support at men who have this disease and have low incomes so cannot access acupuncture due to cost.
Watch this space for more information about the journey of our ear acupuncture clinic.
---
Opening times:
Monday to Thursday from 10:00 to 20:00
Friday and Saturday from 10:00 to 16:00
Sunday closed.
Book your massage via our website or call 0113 234 0818 to speak to one of the team
Phoenix Health & Wellbeing is a Charity.  By coming to us for a treatment you are helping others less fortunate than yourself. We use the proceeds of your treatment to subsidise those who would not otherwise be able to access our therapies. Roughly £4 to every £10 spent with us will go to help others.
If you have private health insurance you may be able to claim back some of the cost of your treatment. Check your policy.