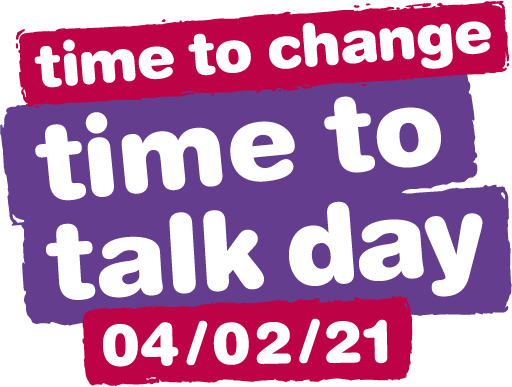 Time to Change, Time to Talk
Time to Change is a national campaign which is working to reduce the stigma around mental health issues. Each year there is a Time to Change Week and a Time to Talk Day. In this challenging year Time to Talk Day is on 4th February (2021).  The theme this year is the power of small.  The thinking is that even small conversations about mental health can lead to big changes and help to reduce the stigma around mental health.
"However you have a conversation it has the power to make a big difference. Every conversation brings us a step closer to ending the isolation, shame and worthlessness that too many of us feel when experiencing a mental health problem. Time to Talk Day is a chance for all of us to be more open about mental health – to talk, to listen, to change lives."
It's a great idea.  A really simple concept that could be the catalyst for change. So this year ask a friend or colleague how they are, tell someone honestly how you are. Talk about mental health. Even a small chat can make a big change.
Someone to talk to
For some with mental health issues there isn't a supportive person to talk to. They may live in violent relationships, exist in isolation or simply not want to 'bother' their friends and family. For these people counselling can be a hugely powerful form of support.
Here, one of our clients tells how talking to a professional therapist has helped her.
"I had lots of difficult times, stresses and strains of life.  I have a 17 year old step daughter who is Down's syndrome and my partner drinks a lot. Last year I was a t a really low ebb when I started coming to Phoenix for counselling. I'm the sole provider and that put such a massive strain on my stress levels, & the positive energy that I had was slowly going in a negative direction. Home life was awful and the lack of support I was getting, well this was a complete zero!! 
I started going for counselling. To be honest I don't know how I would be now in terms of coping with day to day life at home and work.  I think I probably would have had a nervous breakdown because I was heading in the direction of having one.
The counselling sessions allowed me to off-load my problems.  They gave me time to work out what's happening at home and I felt much better when I talked about things that I had problems with. The counselling really helped me to overcome lots of anxiety, stresses, panic attacks and my home life is much better."
Could Counselling help you?
A counselling session provides a confidential space where you can talk about any issues that may be bothering you

The aim of counselling is to provide a supportive place for you to talk, think and explore.

The counsellor is trained to listen and reflect common threads in what you are saying back to you. This can sometimes help to clarify things in your own mind

The counsellor will not tell you what to do but will encourage you to identify and explore solutions to your issues

This type of setting can be deeply supportive and really help people to move forwards in their lives.
We aren't saying that counselling is a magic panacea for all ills but it certainly works for some people, especially those who can't talk about their mental health issues anywhere else.
Want to know more
Follow these links if you would like to know more about counselling or the work at Phoenix Health and Wellbeing   Or follow this link for more about the Time to Change campaign.
---
Phoenix Health & Wellbeing is a Charity.  By coming to us for a treatment you can relax in the knowledge that you are helping others less fortunate than yourself. We use the proceeds of your treatment to subsidise those who would not otherwise be able to access our therapies. Roughly £3 to every £10 spent with us will go to help others.
Opening times:
Monday to Thursday from 10:00 to 20:00
Friday and Saturday from 11:00 to 16:00
Sunday closed.