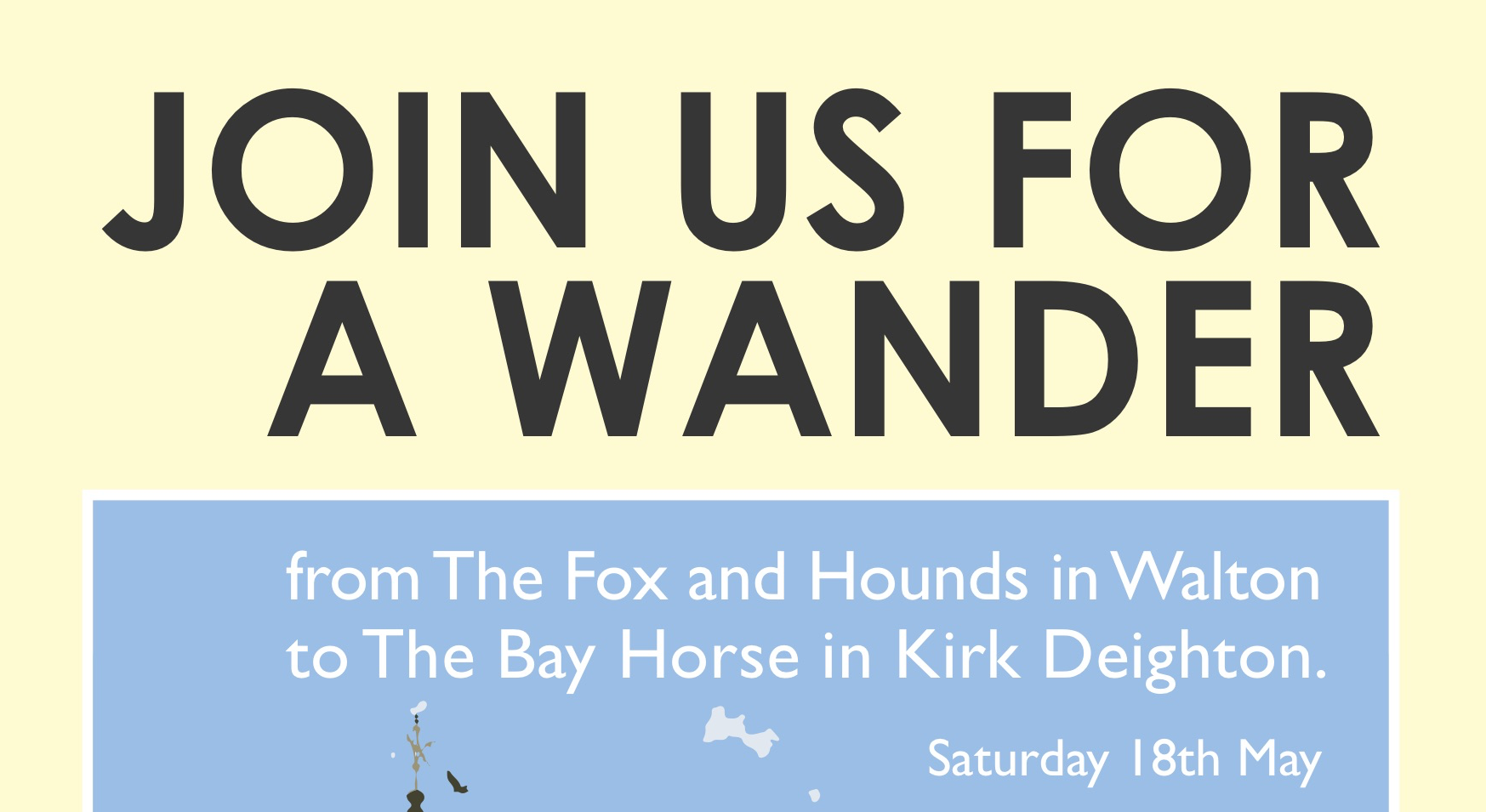 Come for a Wander with us!
What are you doing on Saturday 18th May 2019?
We are planning a wonderful country wander – why not join us?
The idea is that we celebrate the end of a successful Mental Health Awareness Week with a gentle amble along largely traffic free paths.
It gets better………we are going to meet at The Fox and Hounds at Walton near Wetherby at 10:30 am.  We'll have bacon sandwiches and coffee (veggie and non-caffeine alternatives available). When we are all assembled and refreshed we are going to wander along a gentle footpath that cuts though woodland and farm fields to the town of Wetherby and on to a village called Kirk Deighton. In the Village we'll gather at the pub called the Bay Horse where we will have a gourmet BBQ and refreshments.
Just to make sure the afternoon passes in lively company we will have entertainment from a local musician.
So just to recap for those who like lists…..
Meet at the Fox and Hounds in Walton at 10:30 am for a bacon sandwich and a coffee (or vegetarian alternative)
Set off for a gentle stroll to Kirk Deighton via Wetherby along the traffic free path.The route will be way-marked and we will have marshals along the route to make sure no one gets lost.
We are going to have a refreshment break midway just in case people need a little sugar boost
Arrive at the Bay Horse in Kirk Deighton from 12 noon.
On arrival there will be a complimentary drink of beer or prosecco.
The gourmet BBQ will be served from 1pm
We will have live music from 1pm to 3pm with a local musician.
After the BBQ energetic people can walk back to Walton to collect their car or we will provide transport to get back to the start.
How to get a ticket?
Tickets are £25 per adult and £15 per child. The event is being sponsored so all of the proceeds from the ticket sales will go towards Phoenix Health and Wellbeing's work supporting people who have chronic health issues and low incomes.
Get your tickets from either pub (the Fox and Hounds in Walton or The Bay horse in Kirk Deighton) where payment is by cash,  by emailing  gill@phoenixhealthandwellbeing.org.uk or via Eventbrite
---
Phoenix Health & Wellbeing is a Charity.  We provide support, in the form of counselling and complementary therapies to people who have chronic health issues and low incomes. By taking part in our fund raising event you will be helping us with this charitable work.
Opening times:
Monday to Thursday from 10:00 to 20:00
Friday and Saturday from 10:00 to 16:00
Sunday closed.
Book your massage via our website or call 0113 234 0818 to speak to one of the team