What is the stress bucket?
The stress bucket metaphor* is a helpful way to think about how we can try to control the build up of stress in our lives.
Imagine you have a bucket you carry round with you which gradually fills up when you experience different types of stress. If you are experiencing a high amount of stress, the bucket will soon fill up. The size of the bucket varies from person to person and can change on a day to day basis. Some days you might feel overwhelmed by everything but on other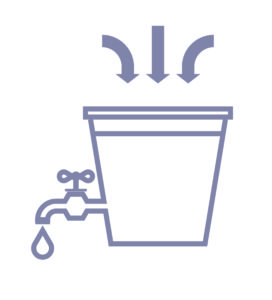 days you may feel strong enough to cope.
Causes of stress can include:
work
family life
lack of sleep
financial issues
dealing with change
poor diet
mental health issues
Stress Relief
As you can see from the diagram to the right, the stress bucket has a tap at its base. The tap is a way to let stress out of the bucket so that the bucket doesn't overflow. The tap symbolises stress release mechanisms – the activities you do which help to relieve accumulated stress. It is important that the stress input does not exceed the stress output.
There are various ways to relieve stress that are simple to do. These include:
rest and relaxation
doing something positive you enjoy such as reading or going for a stroll in the park
talking to trusted people
We are all unique so it's really valuable to take some time to understand what is filling up your stress bucket, and to figure out what helps you relieve stress.
*Developed from an idea by Brabban and Turkington (2002)
---
Phoenix Health & Wellbeing is a Charity.  We provide support, in the form of counselling and complementary therapies to people who have chronic health issues and low incomes. By taking part in our fund raising event you will be helping us with this charitable work.
Opening times:
Monday to Thursday from 10:00 to 20:00
Friday and Saturday from 10:00 to 16:00
Sunday closed.
Book your massage via our website or call 0113 234 0818 to speak to one of the team