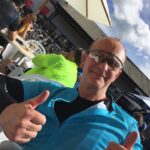 Richard has recently retired and has been able to join the board with extensive experience in business. He believes Phoenix Health and Wellbeing provides a valuable resource for an increasing number of people suffering from the stresses and strains of everyday life. It was for this reason that he wanted to become involved and after meeting the team, couldn't wait to get started.
He is proud of the work we do here and in particular our reduced-rate services that receive referrals from the health sector.
In his free time he is a keen cyclist – as you can see from the photo!