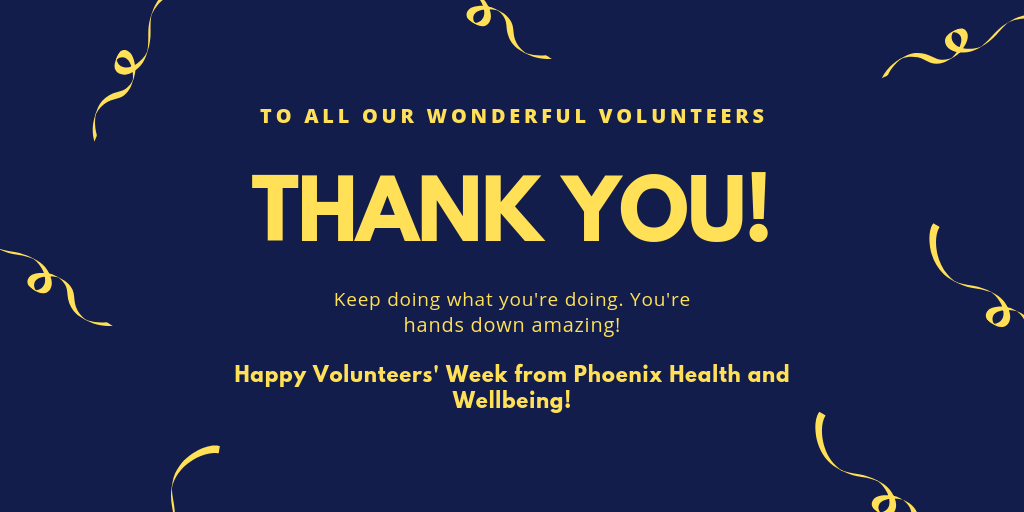 Volunteer Power!
It's Volunteer's Week this week and we want to take the opportunity to say huge thank you to all volunteers.
The power of volunteers
It can be easy to underestimate the power of the volunteer. They aren't necessarily involved in the day to day running of the organisation and they usually only spend a few hours helping out. BUT, in the words of Aesop "no act of kindness, no matter how small, is ever wasted".
Giving up your time for a few hours a week can seem like a small thing to do but it can have a huge impact. Volunteers don't always get to see the results of their work. They don't always get to see the impact they have on people's lives. However, the help and the support they provide to organisations, particularly charities, is invaluable.
The mighty volunteer!
Here at Phoenix volunteers are a crucial part of the organisation. In fact we wouldn't exist without them. That's how important they are.
Phoenix has come so far in the past 5 years and none of this would have been possible without people giving up a few hours a week to volunteer with us. We have volunteers throughout the organisation – on our Board of Trustees, in our counselling service, helping us with admin and welcoming clients to the service.  All roles that are central to our work.
Meet Phil who has volunteered as a counsellor at Phoenix
RM: Hello Phil,  thanks for coming to chat, can you firstly tell us what you do here at Ph

oenix?
PJ: I volunteer as a counsellor. I did my placement here as a counselling student and just stayed on even though I finished studying over a year ago.
RM: We are very glad you stayed! How did you originally get into counselling?
PJ: It's not a very exciting story really. There was  Somebody just said to me 'I think you would be a good counsellor' so I thought I would give it a try! I enrolled onto the Level 1 course and really enjoyed. I wasn't sure whether I enjoyed counselling particularly or just studying again so I enrolled onto a woodwork class as well. This worked well as it reaffirmed that I was interested in counselling specifically not just studying again (woodwork wasn't for me!)
RM: What type of people do you work with?
PJ: Everyone. I don't know anything about the clients before I see them so we just deal with whatever issues they bring into the session. Counselling can be for anybody.
RM: What's the best part about volunteering as a counsellor?
PJ: It's the moment when you see somebody learn something about themselves. As a counsellor you're part of the client's journey and the satisfying points are when you're exploring something with somebody and you can just see it in their eyes that they've had a realisation about themselves. I've not done that for them, they've done that for themselves. I have just helped facilitate it. Counselling can be really empowering.
RM: Last question, what's it like volunteering at Phoenix?
PJ: It's great. I like it here, Phoenix has a really nice atmosphere.
RM: Phil – it's mutual. We think it's great having you here.  All of our volunteers are wonderful.  Thank You
You can find out more about volunteering or counselling via these links. If you want to find out more about Phoenix Health and Wellbeing click here for general information or here to find out about our counselling service. If you would like to volunteer with us drop us an email to info@phoenixhealthandwellbeing.org.uk
---
Phoenix Health & Wellbeing is a Charity. We are also a social enterprise. Anyone can come to us for counselling or complementary therapies.  If you are not referred you will be asked to pay the market rate.  The proceeds of your treatment will then be directed to our charity 'pot'.
Opening times:
Monday to Thursday from 10:00 to 20:00
Friday and Saturday from 10:00 to 16:00
Sunday closed.
Book your massage via our website or call 0113 234 0818 to speak to one of the team