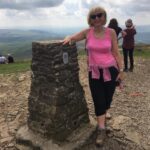 Helen is Chief Executive of Leeds Mind. She was previously Director of Finance at St Gemma's Hospice and had a career in corporate finance before that. She brings lot of welcome financial knowledge and discipline to our Phoenix Team.
She is passionate about improving mental health services and raising awareness of mental health issue in Leeds.
When she isn't working Helen enjoys a walk in the glorious Yorkshire countryside. This photo shows her conquering Penny Ghent! She particularly likes Bolton Abbey and the RHS gardens at Harlow Carr – not least because of the Betty's café!