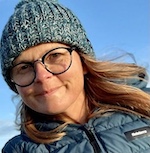 Workdays at Phoenix: Tuesday 5pm to 8pm (Zoom / Telephone) | Wednesday 5pm to 8pm (Zoom / Telephone)
Type of sessions: Zoom | Telephone
About Niki in her own words: Throughout my working life I have always felt happiest in roles where I am helping people. I value people's uniqueness and am curious about people's stories and how they manage their world. I firmly believe that everyone has a right to a happy and fulfilling life whatever their history. My work has a person-centred focus, offering clients warmth and curiosity with no judgement at all. I won't advise clients what to do.
I will be alongside you to help you to understand why you respond in certain ways to aspects of your life; be it feeling angry, sad, ashamed or hopeless. I will empower you to make changes.
Qualifications and areas of interest: I have a Post Graduate Diploma in Counselling and Psychotherapy from York Learning. I work with a wide range of issues from: grief, anxiety, illness, abuse and trauma. I truly value the courage clients bring to therapy as they try to understand and resolve their issues.
Professional body membership:  I am a Registered member of the British Association of Counsellors and Psychotherapists. 
Areas of focus: Abuse, addictions, anger management, anxiety, bereavement, childhood issues, depression, identity issues, menopause and peri-menopause, phobias, post-traumatic stress, redundancy, relationships, self-esteem, self-harm, sexual identity, stress, trauma, work related issues
A little known fact: I love being outdoors, especially if it involves family, friends and a picnic.
If you would like to book a counselling session with Niki please call us on 0113 234 0818 or click here
If you have private health insurance you may be able to claim back some or all of the cost of your counselling sessions. Check you policy first.