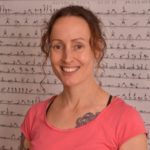 If you're looking to relax and heal, book in with Jeni. She has a holistic approach, blending massage techniques (including myofascial release) to suit your individual needs. 
Jeni is fully qualified and highly experienced in working with mental health, trauma, chronic pain, long-term injuries and conditions such as ME and fibromyalgia. 
What is myofascial release? 
Myofascial release therapy works with fascia, which is a single continuous sheet of connective tissue running through the body. Fascia surrounds, protects, binds and separates muscles, bones and organs. Over time, fascia can become restricted, meaning that muscles and bones can't move freely and effectively – this can feel painful. 
It is a slow approach that uses gentle sustained pressure combined with heat from the therapist's hands to encourage the fascia to reorganise and lengthen, releasing restrictions and restoring openness and space in the body. Most of the techniques include placing hands on an area of skin, waiting for contact to take place, and then gently directing the hands away from each other. Direct soft tissue release techniques are also used in order to work more deeply into specific muscles below the fascia. The slow nature of this approach is designed to create the space you need to heal, and allows your body and mind to do the work in their own time, meaning that results are likely to last longer.  
It is particularly suited to anyone living with chronic pain, who is recovering from injury, or who is living with a long-term condition which requires ongoing support. 
If you have health insurance you may be able to claim back the cost of treatments given by Jeni. Check your policy first. Book a treatment here.