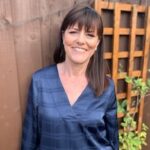 "I'm Jane. My path into counselling as a second career began after a positive personal experience of therapy where I felt a genuine connection to my therapist and was allowed to explore my thoughts and feelings in a safe and confidential space.

My first career in documentary making for television taught me the importance of truly listening to personal stories and, in a sometimes exploitative environment, to appreciate the responsibility of how best to reflect people's experiences in their own voice. I believe there are parallels in the therapeutic relationship that I now establish with my clients where I endeavour to help clients to tell their stories by offering empathy and understanding.

I believe the key to successful therapy is to build a supportive and collaborative working relationship. I aim to do this by getting to know my clients and trying to understand what brings them to therapy, helping them to find their own answers and the best ways forward.

I have a postgraduate diploma in counselling and psychotherapy and am a member of the BACP. My learning continues through additional training and client work.

My work with three different charities as a volunteer, and as part of my training, helped to shape my knowledge and practice leading me to have a particular interest in the impact of bereavement, loss, abuse, anxiety and depression."
If you have health insurance you may be able to claim back the cost of sessions with Jane. Check your policy first. You can book a session here.