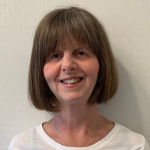 Workdays
: Monday 10am to 1pm | Wednesday 10am to 6pm | Thursday 10am to 8pm |  Friday 10am to 2pm
Type:  Zoom or telephone
About Catherine in her own words: I spent several years working in GP surgeries and in the health service before coming to counselling.  I've always been a people person and have seen the benefits of talking and talking therapies. That made me really want to pursue a career in counselling.  I am constantly amazed at the resilience of human beings and how we have the ability to learn and adapt.  This is what counselling can help people to achieve. I have seen it happen time and again.
Qualification and training: Catherine has a Diploma in Therapeutic Counselling and regularly attends training courses and supervision as part of her continued professional development.
Professional body membership: British Association of Counsellors and Psychotherapists
Areas of focus: relationships, trauma, work related stress, depression and childhood issues amongst others
Hobbies and interests: A keen runner, Catherine regularly runs 5 miles or more. She see's running as her self-care. It gives her a sense of freedom and release.
To book with Catherine call us on 0113 234 0818 or click here
If you have health insurance, you may be able to claim back the cost of sessions with Caroline. Check your policy first.