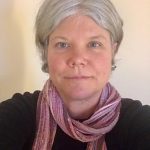 Workdays at Phoenix: Tuesday 2pm to 6pm | Thursday 2pm to 6pm
Type of sessions: Zoom or telephone
About Caroline in her own words: "A long career working with families has helped me to appreciate how issues within our younger years can impact us throughout our lives.  As a result I now work with adults and young people and apply my counselling knowledge and previous experience to help people work through a whole range of themes such as relationship issues, confidence or work related problems as well as issues relating to childhood experience, to name but a few."
Qualifications and training: Caroline has a Diploma in Therapeutic Counselling and regularly attends training courses and supervision as part of her continued professional development. She is currently studying for a Degree in Therapeutic Counselling.
Professional body membership: British Association of Counsellors and Psychotherapists 
Areas of focus: anxiety, chronic pain, long term health issues, trauma, relationship issues, issues relating to childhood experience, amongst others.
A little known fact: "In my spare time I enjoy nature and going for long walks in all weathers. This is one of my ways to re-energise myself. I love cooking (and eating) and love to try new ideas and recipes to share with my family."
To book with Caroline call us on 0113 234 0818 or click here
If you have health insurance you may be able to claim back the cost of sessions with Caroline. Check your policy first.