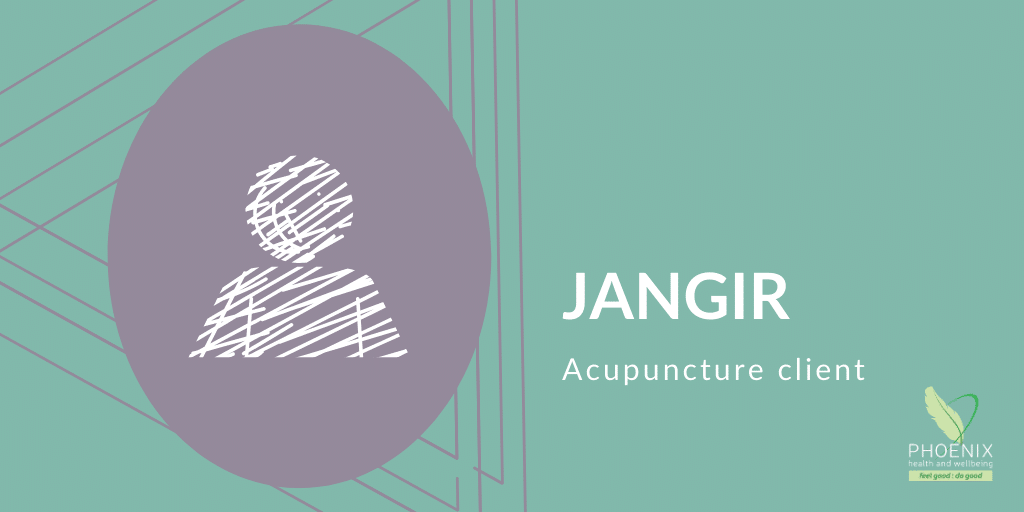 To help manage pain from Trigeminal Neuralgia, Jangir came for a series of treatments at our acupuncture clinic on Wednesdays.
I would like to take this opportunity to convey my sincere heartfelt thanks to

Giles

and all the team at Phoenix Health and Wellbeing for providing such a life changing service. You are truly all heroes in your own way.

I had been suffering from Trigeminal Neuralgia for over two years. In this time I had tried anything and everything anyone would suggest. From anti-depressants and pain killers to alternative herb diets and ointments, right through to Chiropractic treatments, yoga and steam sessions. Most didn't have any affect and the few that did, the affects were short lived.

Then I came across your website one evening scrolling through the web, trying to find some logic to my illness and never ending pain. I was willing to try anything at this stage. But with being out of work for so long due to this chronic pain and condition, I wasn't in a position to just pay the standard prices for all these treatments and my health insurance only covered a few things – they were forever further restricting what they would cover.

That's why your centre was a game changer, allowing me to access your services at a reduced rate via referral. After only a few weeks I noticed such a difference and all credit to

Giles

and his team.

The depth of knowledge and experience is nothing less than remarkable. Since my last treatment I have, for the first time, been symptom free.

I was originally planning to carry it on a few more weeks and ease into fortnightly, then monthly, then stop. Because of lockdown, it all came to an abrupt end. Nevertheless, I have still been pain and symptom free so wanted to convey my deepest heart felt gratitude to you all and inform you of how important and what a difference your service makes to people and their lives.

As soon as circumstances allow, I will be making a donation to your organisation and when funds permit I will be regularly using your other services as my way of saying thank you and giving back so that you may help someone else who maybe in a tricky situation. It would be my way of passing on the favour that was done to me by some kind service user that paid full price so that I could access your service at a crucial time in my life.

Once again, I do not have the words to express how thankful I am for your kindness. Stay safe and stay strong. Hopefully we will meet very soon when we get back to some level of normality.
If you would like to help us continue supporting people like Jangir: