Support our 2021 Fundraiser
Cycling from Whitehaven to Sunderland: a whopping 135 miles in just 2 days!
Join us! You'll be fully supported. Transport, food, accommodation, great company and support all provided for you.
Why are we doing it?
Our target is to raise £10,000.
Every penny will be used to support local people with chronic mental and physical health issues.
The money will enable our therapists to visit local charities and organisations (such as emergency refuges, care homes and community projects) and deliver therapeutic massage to people who are experiencing chronic pain, debilitating mental health issues or are in crisis. They are people who cannot get to our space in Leeds City Centre, and do not have access to this kind of support otherwise.
The therapists will also be able to teach simple massage techniques to the staff and volunteers who keep these invaluable organisations going. These techniques stimulate relaxation and improve mood – helping the staff to continue sharing the power of human touch.
Our aim is to offer this service with no cost to the organisations – who are already doing amazing work in supporting local people.
To donate:
How to sign up:
Click the button below to sign up:
Have any questions?
Email: olivia@phoenixhealthandwellbeing.org.uk
Call us: 0113 234 0818
We have a limit of 25 riders, so to avoid disappointment please sign up by TBC
The route: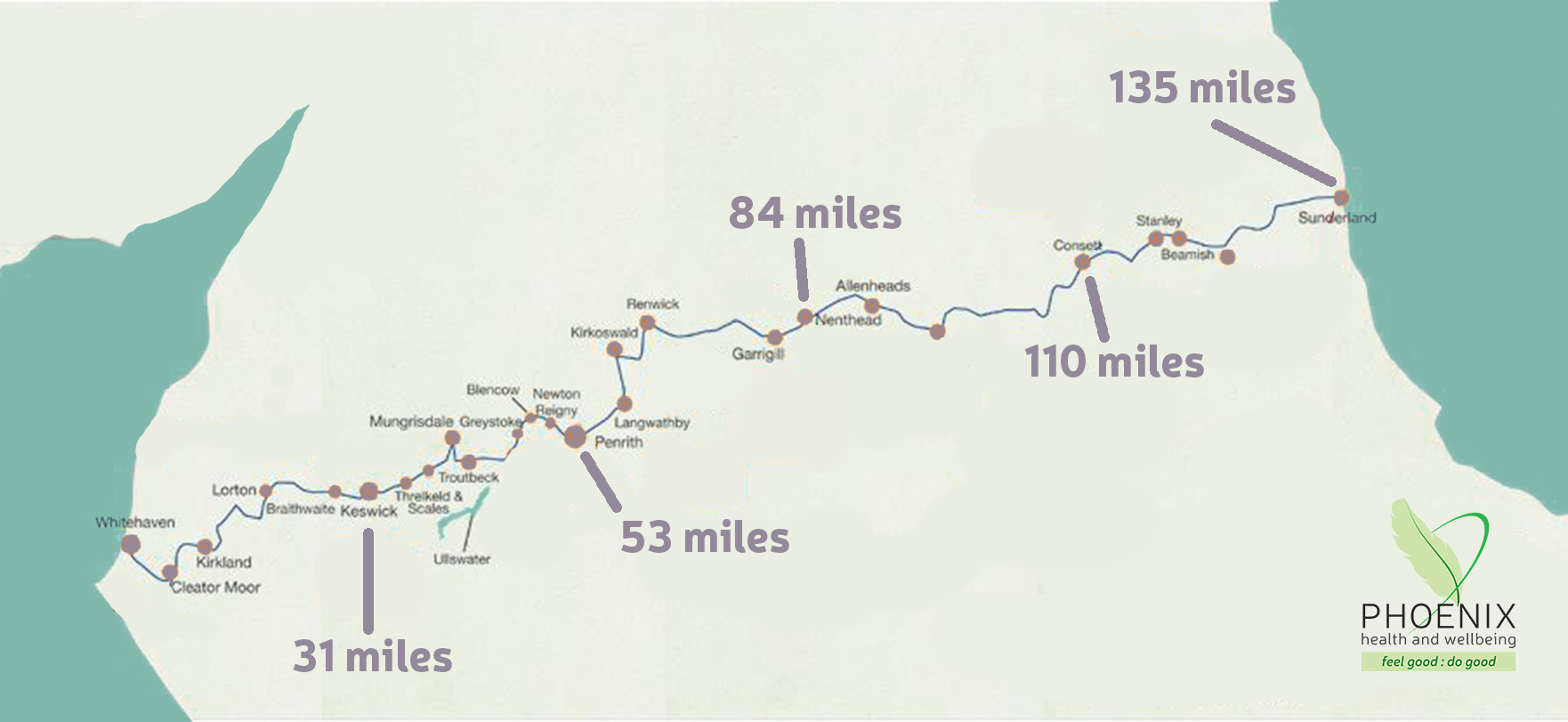 The route is one of the most popular in the UK – the perfect balance between tough and beautiful. 3,500m of ascent on mainly car-free paths or quiet lanes. The route is split into the following sections:
1. Whitehaven → Keswick (0-31miles)
2. Keswick → Penrith (31-53miles)
3. Penrith → Nenthead (53-84miles)
4. Nenthead → Consett (84-110miles)
5. Consett → Sunderland (110-135miles)
Full details of the route available from the SusTrans website
What's the itinerary?
Friday:
We'll set off from Leeds on Friday late afternoon, arrive in Whitehaven and stay the night near to the start.
Saturday:
Saturday early doors – we'll tuck into a hearty breakfast, head to the start, dip our wheels in the sea then set off on the first leg of our adventure. There will be agreed rest & refreshment stops en route, including a longer lunch break to refuel our legs!
Saturday night – we'll arrive at our accommodation (Haggs Bank Bunkhouse, Nenthead), store our bikes for the night and tuck into a hot meal followed by a drink at the local pub (The Miners Arms)
Sunday:
Sunday morning –  another big breakfast and off we go again. A hilly start followed by a long, gradual decent to Sunderland. Again, refreshment stops will be agreed.
We'll arrive in Sunderland on Sunday evening and tuck into Fish & chips by the sea, then flop into the minibus and head back to Leeds!
Why should I do it with Phoenix?
We'll sort it for you
We'll transport you there, sort accommodation and provide breakfast & evening meals. You won't have to worry about logistics or how to get your bags from A to B. Phew!
We're a supportive bunch
We're a friendly bunch – from the training rides and fundraisers before we go, digging deep to get to the top of the hills, to sharing a bunkhouse and heading to the pub together – we'll have seen each other go through it all by the end of the weekend!
We've got experienced cyclists who will be on hand to help with punctures, point the route out and keep us motivated.
feel good : do good
This is the motto we live by. We're so excited to be doing the C2C – the route goes through beautiful countryside and cycling makes you feel great (especially the downhill…). If you come along with us, hopefully you'll feel really good about it AND the money you raise will help others feel good too.
How much does it cost?
£TBC
This includes accommodation, breakfast & evening meals, support crew, a special cycling jersey, plus all transport from Leeds, across the route and back to Leeds again.
You can pay in full on registering, or:
£100 non-refundable deposit to be paid upon sign up by Feb 2021
£250 balance to be paid in April 2021
We also have a target sponsorship amount of £400 per participant. You can group together to raise this or do fundraising individually.
Training rides:
We'll be going on informal, friendly training rides on the following dates. A great way to meet each other before we do our challenge.
No cost for these, just turn up and enjoy!
25 miles – February
35 miles – March
45 miles – April
60 miles – May
How fit do I need to be?
This ride is perfect if you're adventurous and up for a challenge.
If you haven't taken on a multi-day cycling challenge before, but want to push yourself out of your comfort zone, then this is the one for you. Please be under no illusions – it is tough, even for the averagely fit. Some of the hills through the Pennines Just. Keep. Going. But, you will be cycling through some of the most stunning scenery that Britain has to offer, and it makes the burn so worth it!
To help you prepare, we have training rides planned (above) to give you targets of how many miles you should be comfortable cycling at what point.
If you've never trained for anything like this before, we suggest:
→ 1 x long ride and 2 x short rides a week
So, each week in February aim for 1 x 25 mile ride a week and 2 x shorter rides. The shorter rides could include spinning classes or going on an exercise bike, but make sure you do the longer rides on your road bike. You'll need to get used to how it feels to be on your bike for long periods of time and feel confident in traffic and different weather conditions.
On the longer rides, as well as getting fitter you'll be able to test out how good your equipment is, considering questions like:
Do your lights hold their charge well? Are your padded shorts/leggings comfy enough? How much food/drink do you need to keep you going? How many layers should you wear in what weather? Have you got the right size shoes? Do your cleats make your knees sore?
The more experience you have cycling long distances, the more you'll enjoy the ride itself.
What do I need?
A full kit list will be provided upon sign up, but here's an overview:
Road bike (a lightweight hybrid would also be fine) – fully serviced with great brakes, a well-fitting chain and smooth gear transitions
Helmet, gloves, lights, lock
Padded shorts & quick-drying clothes
Cycling shoes & cleats (tried & tested!)
Waterproofs & sunglasses (who knows what the weather will do…)
Puncture repair kit & any first aid you need
Unable to cycle but want to support us? Here's how:
Please donate via our Virgin Giving page, just click on the button and follow the simple steps.
All money raised directly supports people in Leeds with chronic mental & physical health issues who cannot access our services normally
Thank you to our generous sponsors:
Sponsor logos will go here
If you are interested in sponsoring this event, please contact us!